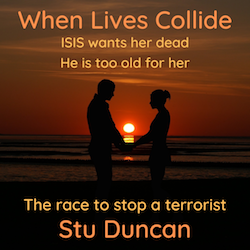 When Lives Collide - Multivoice Audiobook
Before purchasing an audiobook you should listen to a sample to be sure that you like the narrator's voices.
Sample - Excerpts from various chapters of When Lives Collide.
$1.99 Introductory Pricing.
Introductory Pricing will end suddenly without notice.
To receive your copy send email money to the address on the Contact page.
Be sure to include your email address in the comments section of the email money form,
otherwise we will have no way of contacting you to tell you how to download your audiobook.
Within 24 hours you will receive a password that will allow you to download the audiobook by clicking the Download link below.
If you don't get the email, check your SPAM box.
Sorry, the system is not automated.
---
Twogether is currently under audio development.